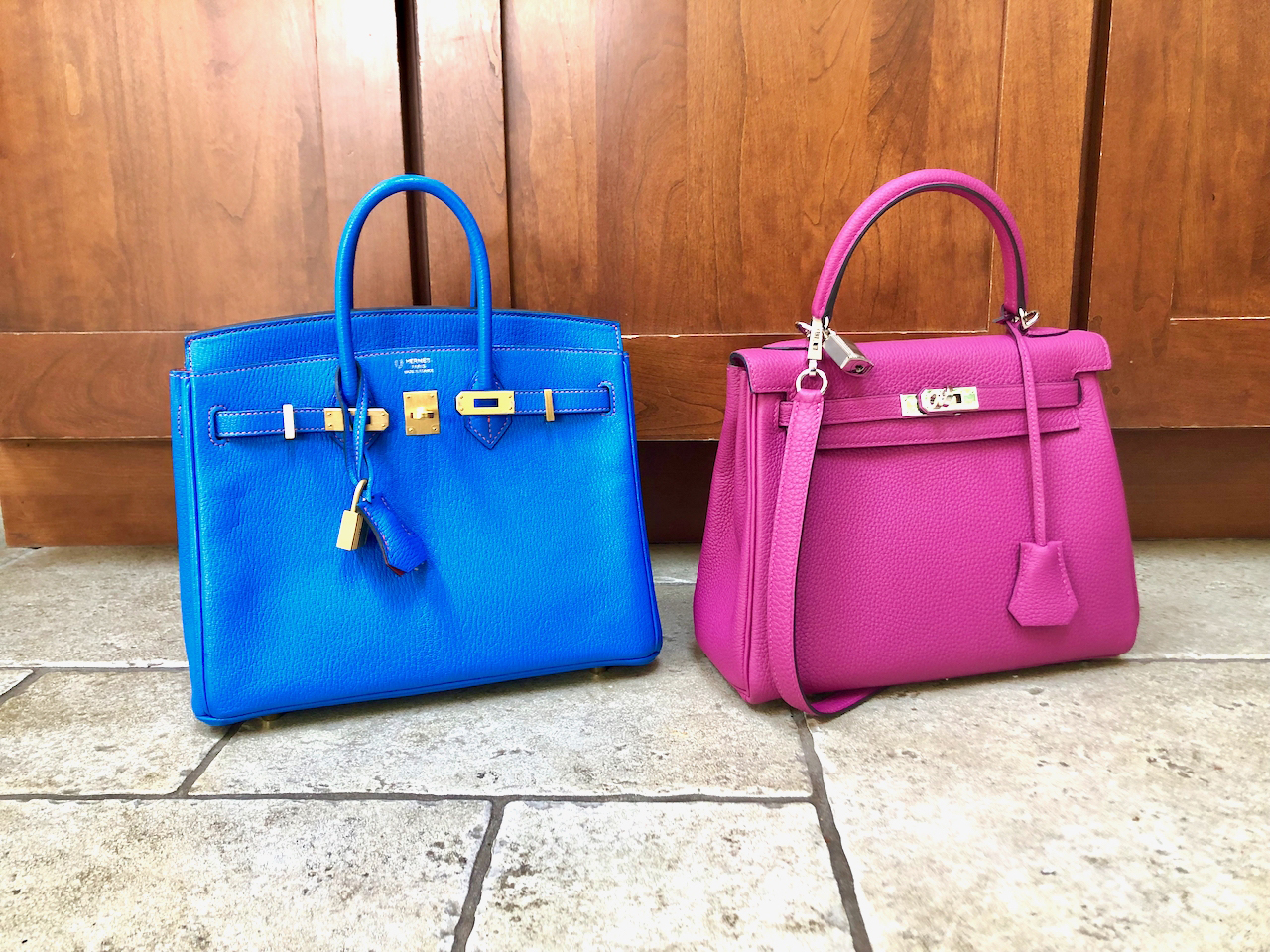 Perhaps you're new to Hermès bags, hoping you'll get an offer soon. Or, perhaps you're a longtime customer, waiting for the latest addition to your wardrobe. Either way, you have some important decisions to make when buying a new purse.
Since we're talking about Hermès, we're probably talking about the Birkin and the Kelly (and also the Constance, but that's a completely different bag which deserves an article of its own!). Although both are very popular, each has a different structure, and each has its own milieu of fans. Both designs are produced in a variety of leathers and colors every season. While many Hermès collectors wind up buying each style at some point, many have a preference for one over the other. Let's examine the structure and the pros and cons of each design and size.
Editor's Note: This is part one of a two-part series, the second article next week will feature an in-depth overview of the Hermès Kelly.
The Birkin
Arguably the more coveted (or at least perhaps the more recognizable) of the two, the Birkin is, at its basic essence, a squat rectangle with handles. I started drawing bags during lockdown in New York, and that's exactly what it is (the Kelly is more of a trapezoid, and it's harder to get the shape quite right, especially if you're drawing a retourne bag, but that's another story…). The Birkin is a tote bag – albeit a very desirable tote bag – so it's considered a casual design. The features of the Birkin include a front flap, straps ("sangles") that hook over a turnlock, and a clochette covering a lock and keys, so you have the option of locking the bag if needed. Inside there is a zip pocket against the back panel and a slip pocket inside the front panel, and the bag has small feet on the bottom.
Pros of the Birkin
Well…it's a Birkin. Objectively, that shouldn't be a "pro" in and of itself, but let's be honest, it bears the heft of all the cultural/fashion zeitgeist surrounding bags and even luxury items in general. From TV to film to music, and all the famous people in those fields, the Birkin is "THE bag" and has been for at least the past few decades.
How practical is it? Well, actually it's very practical, from a usage standpoint (I'm not talking about price here). Due to its slightly horizontal (east-west) shape, it is not as difficult to find what's in your bag as it can be with other totes (that is, it does not become a "bottomless pit"), and if you need further organization there are a number of reputable companies that make bag organizers (I don't use one for various reasons). It looks good, with a proportionally slim profile for a tote bag, and has a casual-yet-structured, unisex appeal which translates well across sizes. Most people tuck the flap inside the bag so it's very easy to get your things in and out (unless you need the security of the flap – and then it's available to you) and tucking the flap in neither harms the bag structurally nor does it decrease the visual appeal of the design; the flap is made to be tucked in when desired.
Cons of the Birkin
The cons of a Birkin (again, disregarding price and availability) have mainly to do with the fact that it is a tote bag, and therefore is not appropriate for formal occasions, even in the smaller sizes (although an argument can be made for the super-rare Birkin Faubourg, which is in itself a work of art. It is also only 20cm, which is significantly smaller than the smallest regularly-produced size, which is 25cm). It should be noted that due to the shape, it's easy to pile stuff into the bag, so it can get proportionally weighty very easily. Additionally, even when nearly empty, the larger sizes of the Birkin can get quite heavy, especially in a leather like Clemence, and then with the larger sizes there is also the tendency for people to carry even more items in the bag, which will invariably stretch the handles (see this article for tips on how to prevent unnecessary wear and tear to your bag). Also it should be noted that the pockets are fairly useless, especially in the smaller sizes and stiffer leathers. The front slip pocket is fine for very thin things, like tickets or claim checks, but that's about it, and quite frankly, if you're putting anything in the rear zip pocket, it will eventually distort the leather. However, as someone who has regularly carried a Birkin for a significant amount of time, I really have no complaints; it functions well and works for most occasions besides the formal and the super-casual.
Which is the best Birkin size for you?
The Birkin is currently made in several sizes, although most often is found in the 25cm, 30cm and 35cm dimensions. Recently Hermès introduced a Sellier structural option, I am not including this variation here because as beautiful as it is, 1) it's still very new and rare; 2) visually it is not very much different from a 25cm Birkin in epsom leather, and 3) due to the bag generally being open all the time, the Sellier structure does not seem to affect how much you can carry in the bag.
20cm: This size is not in regular production, but it is worth a mention; with the popularity of the Mini Kelly and small bags in general, it is definitely possible that this will be produced sometime in the future. As of now only the Birkin Faubourg is made in this size. I imagine this would hold about enough for dinner, undoubtedly more than the Mini Kelly (which admittedly does not hold very much), you could likely get at least a cell phone, lipstick, key, and a Calvi or two (or perhaps a compact wallet like the smaller Silkin), although due to the handle drop this bag would probably be hand/wrist carry only.
25cm: This is arguably the most desired size at the moment, and – full disclosure – this is my preferred size.
– The 25cm is a great size if you do not carry very much. I have to play a bit of what I call "Bag Tetris": trying to get everything to fit in neatly without overstuffing the bag. It will not fit Hermès' larger, full-sized wallets, like the Kelly or Constance – I mean, you could use one of those, but it would take up most of the interior of the bag – a Bearn will sort of fit, but tightly. For a 25cm I personally recommend one of Hermès smaller wallets (I am an unabashed fan of the Silkin Compact Wallet, which, like Mary Poppins' carpet bag, seems to accommodate far more than it looks like it could), although lately my thing has been two Calvi card holders (one for cards, one for cash) and a Bastia (for coins, scarf rings, and random guitar picks). You could also use one of Hermès' pouches; sometimes I also use a medium Karo, which unfortunately Hermès doesn't make anymore, but a Tohubohu pouch will also do the trick. This is all in addition to your cellphone, keys, sunglasses (I use a thinner RayBan case rather than a hardsided one), AirPods, masks and hand sanitizer (which always goes inside a pouch in your bag), and for me, this all fits without having to play much Bag Tetris.
– Due to its small size, it can be carried nearly anywhere; it doesn't get particularly heavy, and will fit in most places except for formal events. It's also a great packable size, as it will often fit into the main compartment of a backpack, whether that is needed for protection or travel, and it will also fit into a hotel safe.
– Some things to bear in mind, however: this size is not good if you are used to carrying more or larger items such as an umbrella, larger digital devices, or even a book or bottled water. If you don't want to have to think about the size of anything you might need, this size may not be right for you. It isn't great for work, and if you are a taller person, it may look disproportionate on you (I personally think anyone can rock any size, but this is a matter of personal preference). Some people find this size too dainty or impractical, and some can only hand or perhaps wrist carry this size, as the length of the handles is proportionately shorter, leaving a narrower width to get your arm though.
30cm: This may be considered the "happy medium" size: big enough for day but not so big that you couldn't bring it along to a casual dinner. My first Birkin was a 30cm, and I have always found it to be a very versatile and functional size.
– Currently considered the "everyday bag" size, the 30cm was for many years considered the "small" size; the 25cm was available only rarely prior to around 2016 (before then, I personally only saw this size twice in nearly 20 years, and although each had been on display and available for sale, neither was right for me), so it used to be that if you wanted a small Birkin, the 30cm was your bag. This is also a great "small" size if you are a taller person, as it doesn't look too dainty.
– This is a good size for carrying most of your needs, without being so big that you wind up carrying too much; it will fit most wallets, as well as all of your necessities, glasses, keys, a makeup pouch, etc. It will also fit one of the smaller iPads or tablets (although I really do not recommend carrying one daily, due to the weight of the tablet possibly stretching out the bag's handles), a small umbrella – in general, whatever you need.
– While not as packable as the 25cm, it will easily fit into a tote bag, and will fit into some hotel safes.
– Although versatile enough for most days, it is definitely a tote and not for any formal occasion. Just in my opinion, sizewise it is just on the border of a day-to-night bag, but only if night is very casual. With that said, I do see this size often enough at fine NY restaurants.
35cm: The 35cm, though perhaps a bit large by today's style standards, is the original and classic Birkin size.
– Proportionally it is really suitable for most people, style trends aside. The Birkin is fully functional as intended in the 35cm size, which can hold everything you would probably want to carry in a good bag.
– I used a 35cm as my main bag when my children were little and just past the diaper bag stage; for that function it's really great in that it can hold childrens' books/toys/snacks in a stylish and durable way, as fashion options aren't plentiful when you're spending time with small children. Similarly, it's a great work bag and can hold a lot of business documents and perhaps even an electronic device or three.
– Concerns include the weight of the bag, as it can get heavy even when empty. Also, it's really too big for meals out unless it's perhaps a business meeting.
40cm: This size hits the borderline between handbag and luggage.
– While not the largest size Birkin, the 40cm is the largest size one could consider using as a handbag. Depending on your personal proportions and style, it can absolutely be carried and pulled off (I had a 5'4″ friend who rocked her 40cm Birkin – though not every day).
– These are not produced as often as the more popular sizes, and when available are usually made in darker or neutral colors.
– This size is fabulous for travel, and great for taller people and men who want to carry a bag that suits them proportionally.
– Watch out, this size can get really heavy, and will definitely slouch.
Haut À Courroies and 50cm: The Haut À Courroies (HAC) is the original Hermès bag that was later retooled to become the Birkin, so they have many style similarities, although the HAC is more of a vertical rather than horizontal shape. The 50cm Birkin is used for luggage.
– For many years the HAC was being produced regularly in the 32cm size, and was considered the "sweet spot" between the then-small 30cm and the bigger 35cm Birkins. It was also produced in the (somewhat harder to find) 28cm size if you really wanted something smaller, and also 36cm. Originally designed to carry saddles and riding boots – and later used for travel – it sits taller than a regular Birkin and the handles are shorter. Of late its been harder to find, and is often relegated to very special "push offer" items which the house decides to produce but cannot be ordered, often in the 40cm size.
– The HAC will be hard to find, although you may be able to locate it via resale.
– If you do locate a HAC, note that what it will hold is similar to the next larger Birkin, meaning a HAC32 probably holds about as much as a B35 (and a HAC28 is similar to a B30, etc.).
Comparison of the various Birkin/HAC Sizes
(Visit this link for some more great Birkin/HAC comparison eye candy):
Shop Hermès Birkins at MISLUX