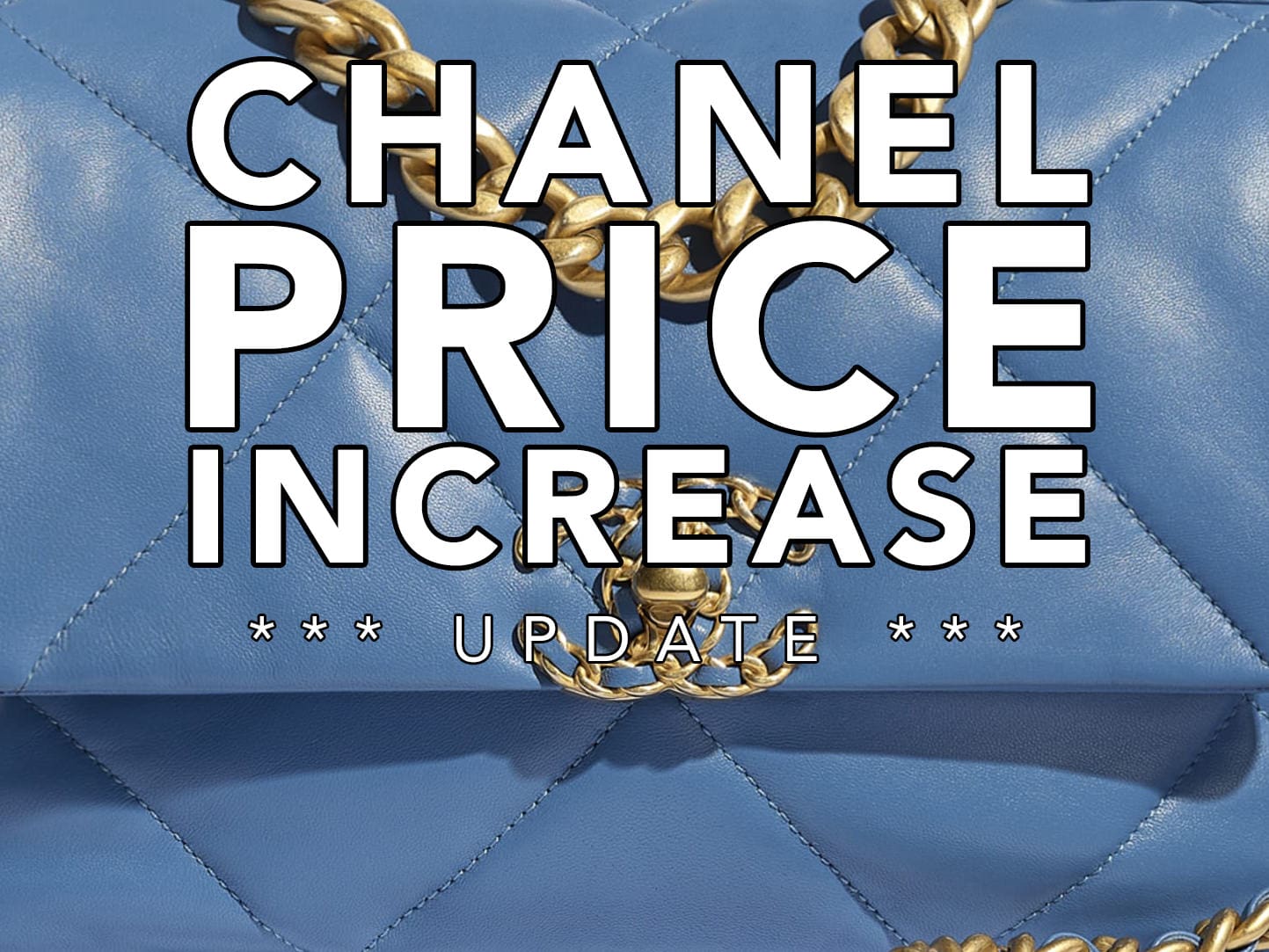 UPDATED May 21st, 2020 with US Pricing
In the middle of May, Chanel increased its prices on majority of bags in the European market just as quarantine restrictions began to ease up and stores reopened across majority of the continent. This week, Chanel US will follow suit and enact a price increase across majority of classic bags as well. Luckily for the US market, the percent increase is not quite as high as the EU faced.
After Chanel increased prices for its European market, Reuters reached out and received confirmation from Chanel on the increase. In an emailed statement, Chanel shared that "The price adjustments only regard Chanel's iconic handbags, 11.12 and 2.55, as well as Boy, Gabrielle, Chanel 19 bags and certain small leather goods. These adjustments are made while ensuring that we avoid excessive price differentials between countries, in line with our commitments regarding price harmonization." However, Chanel told Reuters the increase in euros ranged between 5% to 17%, even though we've had confirmation that on the high end there was a 25% change for the Mini Square Flap Bag as well as a 21% increase on the Small Classic Flap and Reissue 224. This larger increase is said to reflect currency and exchange rate fluctuations. WWD spoke with Chanel about the increase as well, and offers an insightful look into the brand's decision to increase pricing. When asked by WWD, Chanel stated that the price increase had nothing to do with COVID and store closing, rather was part of the twice yearly look at strategy and price reevaluation. When speaking with WWD, "Chanel stressed that any price increases are implemented only after careful consideration, and are necessary for the brand to continue investing to maintain its core standards of creativity and craft."
As Chanel stated, in the last few years it's worked to harmonize prices across the globe in order to make a level priced playing field for all. In years prior, different markets were far more favorable to shop with the exchange rate and VAT. So it was assumed and expected that Chanel would be issuing a price increase for the US market following the news of the new prices that took effect in Europe. While the official date of the new prices is said to be May 25th, some stores are already selling bags at the new price or giving shoppers one more day of old prices.
Can I get a bag before this happens?
You may be able to, but you need to act fast (as in today). There are still select Chanel stores that are within Neiman Marcus, Saks, Bloomingdales, and other retailers that have sales associates who have access to sell available product at this time. If you'd like to find a sales associate, we have long threads of members who share their recommended Chanel Sales Associates as well as members sharing who they've had luck with snagging a bag prior to the Chanel price increase.Feel free to ask in one of these threads for a sales associate and I'm sure our members will be happy to share. I was told by a member today that her sale's associate would be able to help track down an available bag, but an order would need to be placed this morning before the new prices take effect.
Chanel US Price Increase: The US increase was more steady, around 11-12% for majority of Classic Flap and Reissues, while the Chanel 19 only saw about a 4% increase. The Boys' prices are unchanged.
Chanel EU Price Increase: While the rumors were swirling about the exact increase that many beloved bags would face, we can confirm that in some cases it was above the 17% figure that was being floated around. If you're a fan of Boy Bags, take a sigh of relief because the changes there were the lowest, with a 4-5% change. However, the classics were hit hardest, with a 25% change at the high end for the Mini Square Flap Bag. The rest of the Classics saw around a 14-17% increase with the Small Classic Flap and Reissue 224 seeing a 21% increase.
We will update this article as further price increases are released and we receive more information.
NEW US CHANEL PRICES MAY 2020
Classic Bag US Prices
| | | | |
| --- | --- | --- | --- |
| STYLE | NEW PRICE | OLD PRICE | PERCENT INCREASE |
| Chanel Classic Mini Square Flap Bag | $3,500 | $3,200 | 9.4% |
| Chanel Classic Mini Rectangular Flap Bag | $3,800 | $3,500 | 8.6% |
| Chanel Classic Small Flap Bag | $5,800 | $5,200 | 11.5% |
| Chanel Classic Medium Flap Bag | $6,500 | $5,800 | 12.1% |
| Chanel Classic Jumbo Flap Bag | $7,100 | $6,400 | 11% |
| Chanel Classic Maxi Flap Bag | $7,700 | $6,900 | 11.6% |
Reissue Bag US Prices
| | | | |
| --- | --- | --- | --- |
| STYLE | NEW PRICE | OLD PRICE | PERCENT INCREASE |
| Chanel Reissue 224 Bag | $5,800 | $5,200 | 11.5% |
| Chanel Reissue 225 Bag | $6,500 | $5,800 | 12.1% |
| Chanel Reissue 226 Bag | $7,100 | $6,400 | 11% |
| Chanel Reissue 227 Bag | $7,700 | $6,900 | 11.6% |
Boy Bag US Prices
| | | | |
| --- | --- | --- | --- |
| STYLE | NEW PRICE | OLD PRICE | PERCENT INCREASE |
| Chanel Small Boy Flap Bag | $4,600 | $4,600 | – |
| Chanel Old Medium Quilted Boy Flap Bag | $5,000 | $5,000 | – |
| Chanel New Medium Boy Flap Bag | $5,500 | $5,500 | – |
W.O.C. US Prices
| | | | |
| --- | --- | --- | --- |
| STYLE | NEW PRICE | OLD PRICE | PERCENT INCREASE |
| Chanel Classic Quilted WOC Bag | TBD | $2,500 | TBD% |
| Chanel Boy WOC Bag | TBD | $2,700 | TBD% |
Gabrielle Bag US Prices
| | | | |
| --- | --- | --- | --- |
| STYLE | NEW PRICE | OLD PRICE | PERCENT INCREASE |
| Gabrielle Small | $4,100 | $3,900 | 5.1% |
| Gabrielle Medium | $4,300 | $4,100 | 4.9% |
| Gabrielle Backpack | TBD | TBD | TBD% |
Chanel 19 US Prices
| | | | |
| --- | --- | --- | --- |
| STYLE | NEW PRICE | OLD PRICE | PERCENT INCREASE |
| Chanel 19 Small Bag | $4,800 | $4,600 | 4.3% |
| Chanel 19 Large Bag | $5,300 | $5,100 | 3.9% |
| Chanel 19 Maxi Bag | $5,800 | $5,600 | 3.6% |
EUROPEAN CHANEL PRICES
Classic Bag Prices
| | | | |
| --- | --- | --- | --- |
| STYLE | NEW PRICE | OLD PRICE | PERCENT INCREASE |
| Chanel Classic Mini Square Flap Bag | €3,350 | €2,680 | 25% |
| Chanel Classic Mini Rectangular Flap Bag | €3,500 | €3,050 | 14.8% |
| Chanel Classic Small Flap Bag | €5,500 | €4,550 | 20.9% |
| Chanel Classic Medium Flap Bag | €6,050 | €5,150 | 17.5% |
| Chanel Classic Jumbo Flap Bag | €6,600 | €5,700 | 15.8% |
| Chanel Classic Maxi Flap Bag | €7,100 | €6,200 | 14.5% |
Reissue Bag Prices
| | | | |
| --- | --- | --- | --- |
| STYLE | NEW PRICE | OLD PRICE | PERCENT INCREASE |
| Chanel Reissue 224 Bag | €5,500 | €4,550 | 20.9% |
| Chanel Reissue 225 Bag | €6,050 | €5,150 | 17.5% |
| Chanel Reissue 226 Bag | €6,600 | €5,700 | 15.8% |
| Chanel Reissue 227 Bag | €7,100 | €6,200 | 14.5% |
Boy Bag Prices
| | | | |
| --- | --- | --- | --- |
| STYLE | NEW PRICE | OLD PRICE | PERCENT INCREASE |
| Chanel Small Boy Flap Bag | €4,300 | €4,120 | 4.3% |
| Chanel Old Medium Quilted Boy Flap Bag | €4,700 | €4,480 | 4.9% |
| Chanel New Medium Boy Flap Bag | €4,980 | €4,980 | 0% |
W.O.C. Prices
| | | | |
| --- | --- | --- | --- |
| STYLE | NEW PRICE | OLD PRICE | PERCENT INCREASE |
| Chanel Classic Quilted WOC Bag | €2,350 | €2,150 | 9.3% |
| Chanel Boy WOC Bag | TBD | €2,340 | TBD |
Gabrielle Bag Prices
| | | | |
| --- | --- | --- | --- |
| STYLE | NEW PRICE | OLD PRICE | PERCENT INCREASE |
| Gabrielle Small | €3,900 | €3,600 | 8.3% |
| Gabrielle Medium | €4,100 | €4,000 | 2.5% |
| Gabrielle Backpack | €3,450 | €3,280 | 4.9% |
Chanel 19 Prices
| | | | |
| --- | --- | --- | --- |
| STYLE | NEW PRICE | OLD PRICE | PERCENT INCREASE |
| Chanel 19 Small Bag | €4,600 | €4,200 | 9.5% |
| Chanel 19 Large Bag | €5,000 | €4,700 | 6.3% |
| Chanel 19 Maxi Bag | €5,500 | €5,150 | 6.7% |